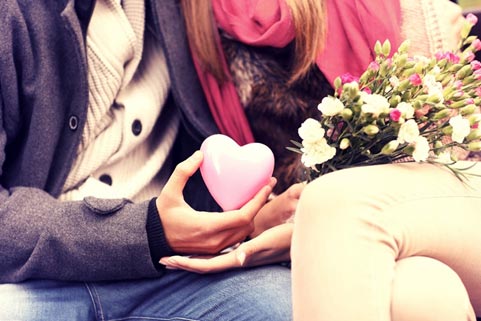 In my line of work, I meet a lot of amazing, fun, successful people – and oftentimes I notice that everyone can get caught up in the busy-ness of work, school, families, kids, extended families, holidays, and travel that they forget about the little things that really matter.
With Valentine's Day coming up, it can feel like there's a lot of pressure to get it right. I mean, most people I know struggle with what to do or buy for your significant other, spouse, someone you just started dating or a special person in your life, to show how much you care.
If you are like me and tend to procrastinate on preparing for this upcoming holiday, and would maybe rather just skip the holiday of love… Don't!
At VIP, our mantra is "helping people with heart do more than they could ever do alone." So I was inspired to share these great tips that provide unique ways anyone can show their heart, without breaking the bank. 
Celebrate On a Different Day
It's no secret that there are serious markups on flowers, romantic activities, and restaurants on Valentine's Day. Celebrating on a different day – especially after – will save you a bundle.
Bring the Out, In
If you're a dress-up for dinner, champagne, and dessert loyalist, consider these tips on how to duplicate that fancy night out, in:
Send an invitation on Evite with date, time, and attire.
Set up a dining table in a different room the patio, or even dinner served like breakfast in bed will make it more special. Dim the lights, and pull out the candles, tablecloth, your best dishes, stemware, champagne on ice, and a single red rose in a vase.
Prepare an elegant dinner at home by purchasing shrimp, lobster, crab, or steaks.
Add some entertainment by playing some dinner music, and have a romantic movie and popcorn ready for after dinner.
Theme a Staycation
When Paris is out of reach, embark on the next best thing: a night at home with foreign flair. Start with a Parisian-themed meal or cheese and fruit plate, paired with a bottle of Champagne. Decorate and add a French-themed movie.
Mornings Are Romantic Too
Of course with Valentine's Day falling in the middle of the week this year, you could flip the holiday on its head by going out for breakfast or brunch over the weekend before or after. Don't forget the mimosas!
Whether you go all out or stay low key, take time to show those you love how much they mean in your life!  When you show it with heart, it's truly the thought that counts! 
Categorized in: News, Uncategorized